La nutrición en el periodo preconcepcional y los resultados del embarazo: revisión bibliográfica y propuesta de intervención del Dietista-Nutricionista
Palabras clave:
Fisiología nutricional durante el embarazo, Embarazo, Resultados del embarazo, Intervención médica temprana, Intervención dietéticonutricional, Complementos alimenticios, Dieta, alimentos y nutrición
Resumen
El estado nutricional de la madre antes y durante el embarazo se constata en los últimos años como uno de los factores ambientales más influyentes en el desarrollo fetal. Este estudio se centra en las primeras fases del proceso de gestación o periodo periconcepcional: preconcepción, concepción, implantación, placentación y embriogénesis; puesto que representan un paso crítico en los resultados del embarazo. Tras una revisión bibliográfica exhaustiva de 66 investigaciones publicadas entre los años 1990 y 2015, fueron el zinc, el hierro, el yodo, los ácidos grasos omega-3, el ácido fólico y otras vitaminas del grupo B, los minerales y micronutrientes para los que se han encontrado mayor evidencia de una relación positiva con el desarrollo de la descendencia. Se propone en este estudio el planteamiento de una intervención dietética por parte del Dietista-Nutricionista, tanto individual como colectiva, en el periodo preconcepcional en las mujeres en edad fértil y/o con intenciones de embarazo, pudiéndose continuar dicha intervención en los periodos de gestación, lactancia, postparto e incluso en la descendencia, reportando beneficios a largo plazo y que probablemente se mantengan y manifiesten durante toda la vida del individuo.
Citas
(1) Ebisch IMW, Thomas CMG, Peters WHM, Braat DDM, Steegers-Theunissen RPM. The importance of folate, zinc and antioxidants in the pathogenesis and prevention of subfertility. Hum Reprod Update. 2007; 13(2): 163-74.
(2) Ramakrishnan U, Grant F, Goldenberg T, Zongrone A, Martorell R. Effect of women's nutrition before and during early pregnancy on maternal and infant outcomes: a systematic review. Paediatr Perinat Epidemiol. 2012; 26(Suppl 1): 285-301.
(3) Herman DR, Taylor Baer M, Adams E, Cunningham-Sabo L, Duran N, Johnson DB, et al. Life Course Perspective: evidence for the role of nutrition. Matern Child Health J. 2014; 18(2): 450-61.
(4) Cetin I, Berti C, Calabrese S. Role of micronutrients in the periconceptional period. Hum Reprod Update. 2010; 16(1): 80-95.
(5) van der Zee B, de Beaufort I, Temel S, de Wert G, Denktas S, Steegers E. Preconception care: an essential preventive strategy to improve children's and women's health. J Public Health Policy. 2011; 32(3): 367-79.
(6) Rousian M, Koning AHJ, van Oppenraaij RHF, Hop WC, Verwoerd-Dikkeboom CM, van der Spek PJ, et al. An innovative virtual reality technique for automated human embryonic volume measurements. Hum Reprod. 2010; 25(9): 2210-6.
(7) Rousian M, Verwoerd-Dikkeboom CM, Koning AHJ, Hop WC, van der Spek PJ, Steegers EAP, et al. First trimester umbilical cord and vitelline duct measurements using virtual reality. Early Hum Dev. 2011; 87(2): 77-82.
(8) Chadio S, Kotsampasi B. The role of early life nutrition in programming of reproductive function. J Dev Orig Health Dis. 2014; 5(1): 2-15.
(9) Bhutta ZA, Das JK. Interventions to address maternal and childhood undernutrition: current evidence. Nestle Nutr Inst Workshop Ser. 2014; 78: 59-69.
(10) Zive MM, Rhee KE. Call to action: continuum of care for females of reproductive age to prevent obesity and ensure better health outcomes of offspring through nutrition. Clin Obstet Gynecol. 2014; 57(3): 446-55.
(11) Cuervo M, Sayon-Orea C, Santiago S, Martínez JA. Dietary and health profiles of Spanish women in preconception, pregnancy and lactation. Nutrients. 2014; 6(10): 4434-51.
(12) Mastroiacovo P, Nilsen RM, Leoncini E, Gastaldi P, Allegri V, Boiani A, et al. Prevalence of maternal preconception risk factors: an Italian multicenter survey. Ital J Pediatr. 2014; 40: 91.
(13) Dean SV, Imam AM, Lassi ZS, Bhutta ZA. Importance of intervening in the preconception period to impact pregnancy outcomes. Nestle Nutr Inst Workshop Ser. 2013; 74: 63-73.
(14) Bhutta ZA, Das JK, Rizvi A, Gaffey MF, Walker N, Horton S, et al. Evidence-based interventions for improvement of maternal and child nutrition: what can be done and at what cost? Lancet. 2013; 382(9890): 452-77.
(15) Vujkovic M, Ocke MC, van der Spek PJ, Yazdanpanah N, Steegers EA, Steegers-Theunissen RP. Maternal Western dietary patterns and the risk of developing a cleft lip with or without a cleft palate. Obstet Gynecol. 2007; 110(2 Pt 1): 378-84.
(16) Hambidge KM, Krebs NF, Westcott JE, Garces A, Goudar SS, Kodkany BS, et al. Preconception maternal nutrition: a multi-site randomized controlled trial. BMC Pregnancy Childbirth. 2014; 14: 111.
(17) Temel S, van Voorst SF, Jack BW, Denktaş S, Steegers EAP. Evidence-based preconceptional lifestyle interventions. Epidemiol Rev. 2014; 36: 19-30.
(18) Grieger JA, Grzeskowiak LE, Clifton VL. Preconception dietary patterns in human pregnancies are associated with preterm delivery. J Nutr. 2014; 144(7): 1075-80.
(19) Institute of Medicine (US) Committee on Improving Birth Outcomes. Reducing Birth Defects: Meeting the Challenge in the Developing World. Bale JR, Stoll BJ, Lucas AO, editores. Washington, D.C.: National Academies Press (US); 2003.
(20) Homocysteine Lowering Trialists' Collaboration. Lowering blood homocysteine with folic acid based supplements: meta-analysis of randomised trials. BMJ. 1998; 316(7135): 894-8.
(21) Brito A, Hertrampf E, Olivares M, Gaitán D, Sánchez H, Allen LH, et al. Folatos y vitamina B12 en la salud humana. Rev Med Chil. 2012; 140(11): 1464-75.
(22) Zappacosta B, Mastroiacovo P, Persichilli S, Pounis G, Ruggeri S, Minucci A, et al. Homocysteine lowering by folate-rich diet or pharmacological supplementations in subjects with moderate hyperhomocysteinemia. Nutrients. 2013; 5(5): 1531-43.
(23) Bukowski R, Malone FD, Porter FT, Nyberg DA, Comstock CH, Hankins GDV, et al. Preconceptional folate supplementation and the risk of spontaneous preterm birth: a cohort study. PLoS Med. 2009; 6(5): e1000061.
(24) Timmermans S, Jaddoe VWV, Hofman A, Steegers-Theunissen RPM, Steegers EAP. Periconception folic acid supplementation, fetal growth and the risks of low birth weight and preterm birth: the Generation R Study. Br J Nutr. 2009; 102(5): 777-85.
(25) Li X, Li S, Mu D, Liu Z, Li Y, Lin Y, et al. The association between periconceptional folic acid supplementation and congenital heart defects: a case-control study in China. Prev Med. 2013; 56(6): 385-9.
(26) Bower C, Miller M, Payne J, Serna P. Folate intake and the primary prevention of non-neural birth defects. Aust N Z J Public Health. 2006; 30(3): 258-61.
(27) Gaskins AJ, Rich-Edwards JW, Hauser R, Williams PL, Gillman MW, Ginsburg ES, et al. Maternal prepregnancy folate intake and risk of spontaneous abortion and stillbirth. Obstet Gynecol. 2014; 124(1): 23-31.
(28) Obeid R, Koletzko B, Pietrzik K. Critical evaluation of lowering the recommended dietary intake of folate. Clin Nutr. 2014; 33(2): 252-9.
(29) World Health Organization, editor. Prevention of neural tube defects. En: Standards for Maternal and Neonatal Care [Internet]. Génova, Suiza: WHO; 2007. p. 45-8. Recuperado a partir de: http://www.who.int/reproductivehealth/publications/maternal_perinatal_health/neural_tube_defects.pdf
(30) De-Regil LM, Peña-Rosas JP, Fernández-Gaxiola AC, Rayco-Solon P. Effects and safety of periconceptional oral folate supplementation for preventing birth defects. Cochrane Database Syst Rev. 2015; 12: CD007950.
(31) Chaffee BW, King JC. Effect of zinc supplementation on pregnancy and infant outcomes: a systematic review. Paediatr Perinat Epidemiol. 2012; 26 Suppl 1: 118-37.
(32) Tian X, Diaz FJ. Acute dietary zinc deficiency before conception compromises oocyte epigenetic programming and disrupts embryonic development. Dev Biol. 2013; 376(1): 51-61.
(33) Tian X, Diaz FJ. Zinc depletion causes multiple defects in ovarian function during the periovulatory period in mice. Endocrinology. 2012; 153(2): 873-86.
(34) Kim AM, Bernhardt ML, Kong BY, Ahn RW, Vogt S, Woodruff TK, et al. Zinc sparks are triggered by fertilization and facilitate cell cycle resumption in mammalian eggs. ACS Chem Biol. 2011; 6(7): 716-23.
(35) Picco SJ, Anchordoquy JM, de Matos DG, Anchordoquy JP, Seoane A, Mattioli GA, et al. Effect of increasing zinc sulphate concentration during in vitro maturation of bovine oocytes. Theriogenology. 2010; 74(7): 1141-8.
(36) Dickerson EH, Sathyapalan T, Knight R, Maguiness SM, Killick SR, Robinson J, et al. Endocrine disruptor & nutritional effects of heavy metals in ovarian hyperstimulation. J Assist Reprod Genet. 2011; 28(12): 1223-8.
(37) Tamura T, Goldenberg RL, Johnston KE, DuBard M. Maternal plasma zinc concentrations and pregnancy outcome. Am J Clin Nutr. 2000; 71(1): 109-13.
(38) Saaka M. Combined iron and zinc supplementation improves haematologic status of pregnant women in Upper West Region of Ghana. Ghana Med J. 2012; 46(4): 225-33.
(39) Velie EM, Block G, Shaw GM, Samuels SJ, Schaffer DM, Kulldorff M. Maternal supplemental and dietary zinc intake and the occurrence of neural tube defects in California. Am J Epidemiol. 1999; 150(6): 605-16.
(40) Grajecki D, Zyriax B-C, Buhling KJ. The effect of micronutrient supplements on female fertility: a systematic review. Arch Gynecol Obstet. 2012; 285(5): 1463-71.
(41) Casanueva E, Pfeffer F, Drijanski A, Fernández-Gaxiola AC, Gutiérrez-Valenzuela V, Rothenberg SJ. Iron and folate status before pregnancy and anemia during pregnancy. Ann Nutr Metab. 2003; 47(2): 60-3.
(42) Ronnenberg AG, Wood RJ, Wang X, Xing H, Chen C, Chen D, et al. Preconception hemoglobin and ferritin concentrations are associated with pregnancy outcome in a prospective cohort of Chinese women. J Nutr. 2004; 134(10): 2586-91.
(43) de Weerd S, Steegers-Theunissen RPM, de Boo TM, Thomas CMG, Steegers E a. P. Maternal periconceptional biochemical and hematological parameters, vitamin profiles and pregnancy outcome. Eur J Clin Nutr. 2003; 57(9): 1128-34.
(44) Krapels IPC, van Rooij IALM, Ocké MC, West CE, van der Horst CMAM, Steegers-Theunissen RPM. Maternal nutritional status and the risk for orofacial cleft offspring in humans. J Nutr. 2004; 134(11): 3106-13.
(45) Groenen PMW, van Rooij IALM, Peer PGM, Ocké MC, Zielhuis GA, Steegers-Theunissen RPM. Low maternal dietary intakes of iron, magnesium, and niacin are associated with spina bifida in the offspring. J Nutr. 2004; 134(6): 1516-22.
(46) Qiu C, Zhang C, Gelaye B, Enquobahrie DA, Frederick IO, Williams MA. Gestational diabetes mellitus in relation to maternal dietary heme iron and nonheme iron intake. Diabetes Care. 2011; 34(7): 1564-9.
(47) Bao W, Bowers K, Tobias DK, Olsen SF, Chavarro J, Vaag A, et al. Prepregnancy low-carbohydrate dietary pattern and risk of gestational diabetes mellitus: a prospective cohort study. Am J Clin Nutr. 2014; 99(6): 1378-84.
(48) Bao W, Tobias DK, Olsen SF, Zhang C. Pre-pregnancy fried food consumption and the risk of gestational diabetes mellitus: a prospective cohort study. Diabetologia. 2014; 57(12): 2485-91.
(49) Ford JH. Preconception risk factors and SGA babies: Papilloma virus, omega 3 and fat soluble vitamin deficiencies. Early Hum Dev. 2011; 87(12): 785-9.
(50) Hammiche F, Vujkovic M, Wijburg W, de Vries JHM, Macklon NS, Laven JSE, et al. Increased preconception omega-3 polyunsaturated fatty acid intake improves embryo morphology. Fertil Steril. 2011; 95(5): 1820-3.
(51) Hösli I, Zanetti-Daellenbach R, Holzgreve W, Lapaire O. Role of omega 3-fatty acids and multivitamins in gestation. J Perinat Med. 2007; 35(Suppl 1): S19-24.
(52) Ronnenberg AG, Goldman MB, Chen D, Aitken IW, Willett WC, Selhub J, et al. Preconception homocysteine and B vitamin status and birth outcomes in Chinese women. Am J Clin Nutr. 2002; 76(6): 1385-91.
(53) Ronnenberg AG, Venners SA, Xu X, Chen C, Wang L, Guang W, et al. Preconception B-vitamin and homocysteine status, conception, and early pregnancy loss. Am J Epidemiol. 2007; 166(3): 304-12.
(54) Delange F. The role of iodine in brain development. Proc Nutr Soc. 2000; 59(1): 75-9.
(55) Sarici D, Akin MA, Kurtoglu S, Akin L, Tucer B, Yikilmaz A, et al. Iodine deficiency: a probable cause of neural tube defect. Childs Nerv Syst. 2013; 29(6): 1027-30.
(56) Zhou SJ, Anderson AJ, Gibson RA, Makrides M. Effect of iodine supplementation in pregnancy on child development and other clinical outcomes: a systematic review of randomized controlled trials. Am J Clin Nutr. 2013; 98(5): 1241-54.
(57) Moleti M, Di Bella B, Giorgianni G, Mancuso A, De Vivo A, Alibrandi A, et al. Maternal thyroid function in different conditions of iodine nutrition in pregnant women exposed to mild-moderate iodine deficiency: an observational study. Clin Endocrinol (Oxf). 2011; 74(6): 762-8.
(58) Donnay S, Arena J, Lucas A, Velasco I, Ares S, Working Group on Disorders Related to Iodine Deficiency and Thyroid Dysfunction of the Spanish Society of Endocrinology and Nutrition. Iodine supplementation during pregnancy and lactation. Position statement of the working group on disorders related to iodine deficiency and thyroid dysfunction of the Spanish Society of Endocrinology and Nutrition. Endocrinol Nutr. 2014; 61(1): 27-34.
(59) Ronnenberg AG, Wang X, Xing H, Chen C, Chen D, Guang W, et al. Low preconception body mass index is associated with birth outcome in a prospective cohort of Chinese women. J Nutr. 2003; 133(11): 3449-55.
(60) Rayco-Solon P, Fulford AJ, Prentice AM. Maternal preconceptional weight and gestational length. Am J Obstet Gynecol. 2005; 192(4): 1133-6.
(61) Ota E, Haruna M, Suzuki M, Anh DD, Tho LH, Tam NTT, et al. Maternal body mass index and gestational weight gain and their association with perinatal outcomes in Viet Nam. Bull World Health Organ. 2011; 89(2): 127-36.
(62) Han YS, Ha EH, Park HS, Kim YJ, Lee SS. Relationships between pregnancy outcomes, biochemical markers and pre-pregnancy body mass index. Int J Obes. 2011; 35(4): 570-7.
(63) Gaskins AJ, Rich-Edwards JW, Colaci DS, Afeiche MC, Toth TL, Gillman MW, et al. Prepregnancy and early adulthood body mass index and adult weight change in relation to fetal loss. Obstet Gynecol. 2014; 124(4): 662-9.
(64) Liu X, Chen Q, Tsai H-J, Wang G, Hong X, Zhou Y, et al. Maternal preconception body mass index and offspring cord blood DNA methylation: exploration of early life origins of disease. Environ Mol Mutagen. 2014; 55(3): 223-30.
(65) Willett WC, Howe GR, Kushi LH. Adjustment for total energy intake in epidemiologic studies. Am J Clin Nutr. 1997; 65(4 Suppl): 1220S - 1228S; discussion 1229S - 1231S.
(66) Federación Española de Sociedades de Nutrición, Alimentación y Dietética. Ingestas Dietéticas de Referencia (IDR) para la Población Española. 1a. ed. Pamplona, España: EUNSA; 2010.
(67) Nohr EA, Olsen J, Bech BH, Bodnar LM, Olsen SF, Catov JM. Periconceptional intake of vitamins and fetal death: a cohort study on multivitamins and folate. Int J Epidemiol. 2014; 43(1): 174-84.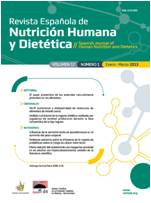 Descargas
Cómo citar
Fernández Molina, L., Soriano del Castillo, J. M., & Blesa Jarque, J. (2016). La nutrición en el periodo preconcepcional y los resultados del embarazo: revisión bibliográfica y propuesta de intervención del Dietista-Nutricionista. Revista Española De Nutrición Humana Y Dietética, 20(1), 48–60. https://doi.org/10.14306/renhyd.20.1.143
Sección
Artículos de revisión