Probióticos en el tratamiento de alergias: una revisión
Palabras clave:
Probióticos, Asma, Rinitis Alérgica, Dermatitis Atópica, Hipersensibilidad a los Alimentos, Microbioma Gastrointestinal
Resumen
La alergia es una respuesta exacerbada del sistema inmunitario a un elemento desencadenante. Una probable causa de las alergias es la composición del microbioma intestinal. Tiene una fuerte relación con el desarrollo del sistema inmunitario humano y se forma en la vida intrauterina y en la primera infancia, períodos cruciales para la formación de la microbiota adecuada. En este sentido, la modulación de la microbiota intestinal por los probióticos podría prevenir o ayudar en el tratamiento de enfermedades alérgicas como la rinitis alérgica, el asma, la dermatitis atópica y la alergia alimentaria. Los estudios publicados hasta la fecha son controvertidos. Es difícil determinar si los probióticos pueden usarse en el tratamiento y prevención de enfermedades alérgicas.
Citas
(1) Johansson SGO, Bieber T, Dahl R, Friedmann PS, Lanier BQ, Lockey RF, et al. Revised nomenclature for allergy for global use: Report of the Nomenclature Review Committee of the World Allergy Organization, October 2003. J Allergy Clin Immunol. 2004;113(5):832-6.
(2) Pawankar R. Allergic diseases and asthma: a global public health concern and a call to action. World Allergy Organ J. 2014;7(1):12.
(3) Noverr MC, Huffnagle GB. The «microflora hypothesis» of allergic diseases. Clin Exp Allergy. 2005;35(12):1511-20.
(4) Bieber T, Cork M, Reitamo S. Atopic dermatitis: a candidate for disease-modifying strategy. Allergy. 2012;67(8):969-75.
(5) Patel S, Gruchalla R. Can We Be Too Clean for Our Own Good? The Hygiene Hypothesis Reviewed. Tex Med. 2017;113(2):54-9.
(6) Romagnani S. Coming back to a missing immune deviation as the main explanatory mechanism for the hygiene hypothesis. J Allergy Clin Immunol. 2007;119(6):1511-3.
(7) Wopereis H, Oozeer R, Knipping K, Belzer C, Knol J. The first thousand days - intestinal microbiology of early life: establishing a symbiosis. Pediatr Allergy Immunol. 2014;25(5):428-38.
(8) Rautava S, Luoto R, Salminen S, Isolauri E. Microbial contact during pregnancy, intestinal colonization and human disease. Nat Rev Gastroenterol Hepatol. 2012;9(10):565-76.
(9) Bäckhed F, Roswall J, Peng Y, Feng Q, Jia H, Kovatcheva-Datchary P, et al. Dynamics and Stabilization of the Human Gut Microbiome during the First Year of Life. Cell Host Microbe. 2015;17(5):690-703.
(10) Palm NW, de Zoete MR, Flavell RA. Immune-microbiota interactions in health and disease. Clin Immunol. 2015;159(2):122-7.
(11) Deplancke B, Gaskins HR. Microbial modulation of innate defense: goblet cells and the intestinal mucus layer. Am J Clin Nutr. 2001;73(6):1131S-1141S.
(12) Macpherson AJ, McCoy KD. Standardised animal models of host microbial mutualism. Mucosal Immunol. 2015;8(3):476-86.
(13) Agência Nacional de Vigilância Sanitária (Brasil). Resolução RDC nº 2, de 7 de janeiro de 2002. Aprova o regulamento técnico de substâncias bioativas e probióticos isolados com alegação de propriedades funcional e ou de saúde. Diário Oficial da União, Poder Executivo, 9 jan. 2002. [Internet]. [citado 3 de junio de 2016]. Disponible en: http://portal.anvisa.gov.br/wps/wcm/connect/1c77370047457bcc8888dc3fbc4c6735/RDC_02_2002.pdf?MOD=AJPERES
(14) Fioramonti J, Theodorou V, Bueno L. Probiotics: what are they? What are their effects on gut physiology? Best Pract Res Clin Gastroenterol. 2003;17(5):711-24.
(15) Gibson GR, Fuller R. Aspects of in vitro and in vivo research approaches directed toward identifying probiotics and prebiotics for human use. J Nutr. 2000;130(2S Suppl):391S-395S.
(16) Sociedade Brasileira de Pneumonia e Tisiologia. Diretrizes da Sociedade Brasileira de Pneumonia e Tisiologia para o manejo da Asma – 2012. J Bras Pneumol. 2012;38(Suplemento 1):S1-46.
(17) Associação Brasileira de Alergia e Imunopatologia (ASBAI)/Associação Brasileira de Otorrinolaringologia e Cirurgia Cérvico-Facial (ABORL-CCF). III Consenso Brasileiro sobre Rinites - São Paulo, 2012. Braz J Otorhinolaryngol. 2012;75(6):1-52.
(18) Eichenfield LF, Tom WL, Chamlin SL, Feldman SR, Hanifin JM, Simpson EL, et al. Guidelines of care for the management of atopic dermatitis: section 1. Diagnosis and assessment of atopic dermatitis. J Am Acad Dermatol. 2014;70(2):338-51.
(19) Eichenfield LF, Tom WL, Berger TG, Krol A, Paller AS, Schwarzenberger K, et al. Guidelines of care for the management of atopic dermatitis: section 2. Management and treatment of atopic dermatitis with topical therapies. J Am Acad Dermatol. 2014;71(1):116-32.
(20) Boyce JA, Assa'ad A, Burks AW, Jones SM, Sampson HA, Wood RA, et al. Guidelines for the diagnosis and management of food allergy in the United States: summary of the NIAID-sponsored expert panel report. Nutr Res. 2011;31(1):61-75.
(21) Sociedade Brasileira de Pediatria, Associação Brasileira de, Alergia e Imunopatologia. Consenso Brasileiro sobre alergia alimentar: 2007. Rev Bras Alerg Imunopatol. 2008;31(2):64-89.
(22) Turnbaugh PJ, Ley RE, Hamady M, Fraser-Liggett CM, Knight R, Gordon JI. The human microbiome project. Nature. 2007;449(7164):804-10.
(23) Roger LC, Costabile A, Holland DT, Hoyles L, McCartney AL. Examination of faecal Bifidobacterium populations in breast- and formula-fed infants during the first 18 months of life. Microbiology (Reading, Engl). 2010;156(Pt 11):3329-41.
(24) Gorissen DMW, Rutten NBMM, Oostermeijer CMJ, Niers LEM, Hoekstra MO, Rijkers GT, et al. Preventive effects of selected probiotic strains on the development of asthma and allergic rhinitis in childhood. The Panda study. Clin Exp Allergy. 2014;44(11):1431-3.
(25) Tulic MK, Andrews D, Crook ML, Charles A, Tourigny MR, Moqbel R, et al. Changes in thymic regulatory T-cell maturation from birth to puberty: differences in atopic children. J Allergy Clin Immunol. 2012;129(1):199-206.e1-4.
(26) Pollard M, Sharon N. Responses of the Peyer's Patches in Germ-Free Mice to Antigenic Stimulation. Infect Immun. 1970;2(1):96-100.
(27) Hooper LV. Bacterial contributions to mammalian gut development. Trends Microbiol. 2004;12(3):129-34.
(28) Kamada N, Seo S-U, Chen GY, Núñez G. Role of the gut microbiota in immunity and inflammatory disease. Nat Rev Immunol. 2013;13(5):321-35.
(29) Maranduba CM da C, De Castro SBR, de Souza GT, Rossato C, da Guia FC, Valente MAS, et al. Intestinal microbiota as modulators of the immune system and neuroimmune system: impact on the host health and homeostasis. J Immunol Res. 2015;2015:931574.
(30) Macpherson AJ, Geuking MB, McCoy KD. Homeland security: IgA immunity at the frontiers of the body. Trends Immunol. 2012;33(4):160-7.
(31) Maynard CL, Elson CO, Hatton RD, Weaver CT. Reciprocal interactions of the intestinal microbiota and immune system. Nature. 2012;489(7415):231-41.
(32) Melli LCFL, do Carmo-Rodrigues MS, Araújo-Filho HB, Solé D, de Morais MB. Intestinal microbiota and allergic diseases: A systematic review. Allergol Immunopathol. 2016;44(2):177-88.
(33) Salminen S, von Wright A, Morelli L, Marteau P, Brassart D, de Vos WM, et al. Demonstration of safety of probiotics -- a review. Int J Food Microbiol. 1998;44(1-2):93-106.
(34) Fuller R. Probiotics in man and animals. J Appl Bacteriol. 1989;66(5):365-78.
(35) Matsuo K, Ota H, Akamatsu T, Sugiyama A, Katsuyama T. Histochemistry of the surface mucous gel layer of the human colon. Gut. 1997;40(6):782-9.
(36) Braat H, van den Brande J, van Tol E, Hommes D, Peppelenbosch M, van Deventer S. Lactobacillus rhamnosus induces peripheral hyporesponsiveness in stimulated CD4+ T cells via modulation of dendritic cell function. Am J Clin Nutr. 2004;80(6):1618-25.
(37) Souza FS, Cocco RR, Sarni ROS, Mallozi MC, Solé D. Prebióticos, probióticos e simbióticos na prevenção e tratamento das doenças alérgicas. Rev Paul Pediatr. 2010;28(1):86-97.
(38) Vliagoftis H, Kouranos VD, Betsi GI, Falagas ME. Probiotics for the treatment of allergic rhinitis and asthma: systematic review of randomized controlled trials. Ann Allergy Asthma Immunol. 2008;101(6):570-9.
(39) Das RR, Naik SS, Singh M. Probiotics as additives on therapy in allergic airway diseases: a systematic review of benefits and risks. Biomed Res Int. 2013;2013:231979.
(40) Abrahamsson TR, Jakobsson T, Björkstén B, Oldaeus G, Jenmalm MC. No effect of probiotics on respiratory allergies: a seven-year follow-up of a randomized controlled trial in infancy. Pediatr Allergy Immunol. 2013;24(6):556-61.
(41) Peng Y, Li A, Yu L, Qin G. The role of probiotics in prevention and treatment for patients with allergic rhinitis: A systematic review. Am J Rhinol Allergy. 2015;29(4):292-8.
(42) Azad MB, Coneys JG, Kozyrskyj AL, Field CJ, Ramsey CD, Becker AB, et al. Probiotic supplementation during pregnancy or infancy for the prevention of asthma and wheeze: systematic review and meta-analysis. BMJ. 2013;347:f6471.
(43) Cao L, Wang L, Yang L, Tao S, Xia R, Fan W. Long-term effect of early-life supplementation with probiotics on preventing atopic dermatitis: A meta-analysis. J Dermatolog Treat. 2015;26(6):537-40.
(44) Panduru M, Panduru NM, Sălăvăstru CM, Tiplica G-S. Probiotics and primary prevention of atopic dermatitis: a meta-analysis of randomized controlled studies. J Eur Acad Dermatol Venereol. 2015;29(2):232-42.
(45) Kim S-O, Ah Y-M, Yu YM, Choi KH, Shin W-G, Lee J-Y. Effects of probiotics for the treatment of atopic dermatitis: a meta-analysis of randomized controlled trials. Ann Allergy Asthma Immunol. 2014;113(2):217-26.
(46) Torii S, Torii A, Itoh K, Urisu A, Terada A, Fujisawa T, et al. Effects of oral administration of Lactobacillus acidophilus L-92 on the symptoms and serum markers of atopic dermatitis in children. Int Arch Allergy Immunol. 2011;154(3):236-45.
(47) Han Y, Kim B, Ban J, Lee J, Kim BJ, Choi BS, et al. A randomized trial of Lactobacillus plantarum CJLP133 for the treatment of atopic dermatitis. Pediatr Allergy Immunol. 2012;23(7):667-73.
(48) Yeşilova Y, Çalka Ö, Akdeniz N, Berktaş M. Effect of probiotics on the treatment of children with atopic dermatitis. Ann Dermatol. 2012;24(2):189-93.
(49) Kong X, Yang Y, Guan J, Wang R. Probiotics' preventive effect on pediatric food allergy: a meta-analysis of randomized controlled trials. Chin Med Sci J. 2014;29(3):144-7.
(50) Tang MLK, Ponsonby A-L, Orsini F, Tey D, Robinson M, Su EL, et al. Administration of a probiotic with peanut oral immunotherapy: A randomized trial. J Allergy Clin Immunol. 2015;135(3):737-744.e8.
(51) Ivakhnenko ES, Nian'kovskiĭ SL. [Effect of probiotics on the dynamics of gastrointestinal symptoms of food allergy to cow's milk protein in infants]. Georgian Med News. 2013;(219):46-52.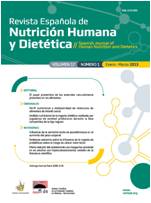 Descargas
Cómo citar
Crovesy, L., Gongalves, D., & Trigo, E. L. (2017). Probióticos en el tratamiento de alergias: una revisión. Revista Española De Nutrición Humana Y Dietética, 21(3), 293–299. https://doi.org/10.14306/renhyd.21.3.361
Sección
Artículos de revisión