Uso de suplementos dietéticos y variables asociadas entre mujeres turcas: estudio transversal
Palabras clave:
Suplementos alimenticios, Mujeres, Estudio transversal, Turquía
Resumen
Introducción: El uso de suplementos dietéticos aumenta continuamente en el mundo y parece ser más común entre las mujeres. Los datos sobre los hábitos de suplementación de las mujeres en Turquía aún son limitados. El propósito de este estudio es determinar el uso de suplementos dietéticos y evaluar los factores que influyen en las mujeres turcas en el período anterior COVID-19.
Metodología: Un total de 727 mujeres turcas (33,4[10,3] años; 25,9[4,57] kg/m2; 162,9[6,81] cm) participaron en este estudio transversal. Después del pilotaje, las participantes completaron un formulario de cuestionario de seis partes que un dietista capacitado administró personalmente o por teléfono. El cuestionario fue destinado a recopilar datos sobre características demográficas, uso de suplementos dietéticos y factores que influyen en la elección de suplementos, hábitos alimenticios, actividad física y hábitos de estilo de vida.
Resultados: Un total de 307 participantes (42,2%) utilizaron al menos un suplemento dietético en el año anterior. Los más utilizados fueron hierro (30,6%), vitamina D (30,6%), vitamina B12 (26,7%), multivitamínicos (18,2%) y calcio (11,4%). El uso de suplementos dietéticos disminuyó con mayor actividad física (p=0,002). Además, el uso de suplementos fue significativamente mayor entre las mujeres que consumían comidas en horarios regulares (p=0,001) y evitaban el consumo de comida rápida (p=0,014). Sin embargo, el uso de suplementos dietéticos no se asoció con menor índice de masa corporal, mayor edad y mayor nivel educativo (p>0,05).
Conclusiones: Más del 40% de las mujeres informaron que usaban suplementos dietéticos. El uso de suplementos no se asoció con menor IMC, mayor actividad física, mayor edad, mayor nivel educativo y no fumar y beber. Las mujeres turcas parecen mostrar un perfil de consumidor diferente al de las usuarias típicas de suplementos dietéticos.
Citas
(1) Mukherjee PK, Harwansh RK, Bahadur S, Duraipandiyan V, Al-Dhabi NA Chapter 34 - Factors to Consider in Development of Nutraceutical and Dietary Supplements. En: Badal S, Delgoda R, editores. Pharmacognosy. Boston: Academic Press; 2017. p. 653-61.
(2) The Business Research Company Vitamins And Mineral Supplement Global Market Report 2020-30: COVID 19 Implications and Growth - GII. 2020.
(3) Wierzejska RE Dietary Supplements-For Whom? The Current State of Knowledge about the Health Effects of Selected Supplement Use. Int J Environ Res Public Health. 2021;18(17):8897, doi: 10.3390/ijerph18178897.
(4) Binns CW, Lee MK, Lee AH Problems and Prospects: Public Health Regulation of Dietary Supplements. Annu Rev Public Health. 2018;39:403-20, doi: 10.1146/annurev-publhealth-040617-013638.
(5) Zhang FF, Barr SI, McNulty H, Li D, Blumberg JB Health effects of vitamin and mineral supplements. BMJ. 2020;369:m2511, doi: 10.1136/bmj.m2511.
(6) Bailey RL, Gahche JJ, Miller PE, Thomas PR, Dwyer JT Why US adults use dietary supplements. JAMA Intern Med. 2013;173(5):355-61, doi: 10.1001/jamainternmed.2013.2299.
(7) Cowan AE, Jun S, Gahche JJ, Tooze JA, Dwyer JT, Eicher-Miller HA, et al. Dietary Supplement Use Differs by Socioeconomic and Health-Related Characteristics among U.S. Adults, NHANES 2011−2014. Nutrients. 2018;10(8):E1114, doi: 10.3390/nu10081114.
(8) Dickinson A, Blatman J, El-Dash N, Franco JC Consumer usage and reasons for using dietary supplements: report of a series of surveys. J Am Coll Nutr. 2014;33(2):176-82, doi: 10.1080/07315724.2013.875423.
(9) Chen F, Du M, Blumberg JB, Ho Chui KK, Ruan M, Rogers G, et al. Association Among Dietary Supplement Use, Nutrient Intake, and Mortality Among U.S. Adults: A Cohort Study. Ann Intern Med. 2019;170(9):604-13, doi: 10.7326/M18-2478.
(10) Blumberg JB, Frei B, Fulgoni VL, Weaver CM, Zeisel SH Contribution of Dietary Supplements to Nutritional Adequacy in Various Adult Age Groups. Nutrients. 2017;9(12):E1325, doi: 10.3390/nu9121325.
(11) Fassier P, Egnell M, Pouchieu C, Vasson M-P, Cohen P, Galan P, et al. Quantitative assessment of dietary supplement intake in 77,000 French adults: impact on nutritional intake inadequacy and excessive intake. Eur J Nutr. 2019;58(7):2679-92, doi: 10.1007/s00394-018-1815-x.
(12) Burnett AJ, Livingstone KM, Woods JL, McNaughton SA Dietary Supplement Use among Australian Adults: Findings from the 2011-2012 National Nutrition and Physical Activity Survey. Nutrients. 2017;9(11):E1248, doi: 10.3390/nu9111248.
(13) Dickinson A, MacKay D Health habits and other characteristics of dietary supplement users: a review. Nutr J. 2014;13:14, doi: 10.1186/1475-2891-13-14.
(14) Çapar AG, Yılmaz M Use of dietary supplements among physicians at a hospital in Turkey. Progr Nutr. 2019;21(1):50-8, doi: 10.23751/pn.v21i1.7542.
(15) Koç A, Erdoğan K, Arslan N, Öztürk SB, Ayşakar A, Koparal B Assessment for the Use of Nutritional Support in Turkey. J Med - Clin Res & Rev. 2018;2(4):1-5, doi: 10.33425/2639-944X.1052.
(16) Erzurum Alim N, Karakaya RE, Turk Fidan OP Dietary supplement use and knowledge among students from a health sciencefaculty in a Turkish University. Food Res. 2021;5(5):116-23, doi: 10.26656/fr.2017.5(5).760.
(17) Tarı Selçuk K, Çevik C Use of dietary supplements among nursing students in Turkey in the last 12 months and its relation with orthorexia nervosa. Perspect Psychiatr Care. 2020;56(4):885-93, doi: 10.1111/ppc.12507.
(18) John U, Ulbricht S, Freyer-Adam J, Meyer C [Behavior-based prevention of chronic diseases]. Dtsch Med Wochenschr. 2015;140(10):756-60, doi: 10.1055/s-0041-102222.
(19) Schröer S, Haupt J, Pieper C Evidence-based lifestyle interventions in the workplace--an overview. Occup Med (Lond). 2014;64(1):8-12, doi: 10.1093/occmed/kqt136.
(20) Hacettepe University MoHT, Ankhara Numune Research and Training Hospital (Turkey). Turkey Nutrition and Health Survey 2019. Ankara: Republic of Turkey, Ministry of Health, General Directorate of Public Health, 2019.
(21) Parnell JA, Wiens K, Erdman KA Evaluation of congruence among dietary supplement use and motivation for supplementation in young, Canadian athletes. J Int Soc Sports Nutr. 2015;12:49, doi: 10.1186/s12970-015-0110-y.
(22) Frey A, Hoffmann I, Heuer T Characterisation of vitamin and mineral supplement users differentiated according to their motives for using supplements: results of the German National Nutrition Monitoring (NEMONIT). Public Health Nutr. 2017;20(12):2173-82, doi: 10.1017/S1368980017001021.
(23) Ünal B, Ergör G, Horasan G, Kalaça S, Sözmen H Türkiye Kronik Hastalıkları ve Risk Faktörleri Sıklığı Çalışması. Ankara: Sağlık Bakanlığı. 2013.
(24) Lacerda FMM, Carvalho WRG, Hortegal EV, Cabral NAL, Veloso HJF Factors associated with dietary supplement use by people who exercise at gyms. Rev Saude Publica. 2015;49:63, doi: 10.1590/S0034-8910.2015049005912.
(25) Gremeaux V, Gayda M, Lepers R, Sosner P, Juneau M, Nigam A Exercise and longevity. Maturitas. 2012;73(4):312-7, doi: 10.1016/j.maturitas.2012.09.012.
(26) Weber Buchholz S, Wilbur J, Halloway S, McDevitt JH, Schoeny ME Physical activity intervention studies and their relationship to body composition in healthy women. Annu Rev Nurs Res. 2013;31:71-142, doi: 10.1891/0739-6686.31.71.
(27) Leidy HJ, Campbell WW The effect of eating frequency on appetite control and food intake: brief synopsis of controlled feeding studies. J Nutr. 2011;141(1):154-7, doi: 10.3945/jn.109.114389.
(28) Summerbell CD, Waters E, Edmunds LD, Kelly S, Brown T, Campbell KJ Interventions for preventing obesity in children. Cochrane Database Syst Rev. 2005;(3):CD001871, doi: 10.1002/14651858.CD001871.pub2.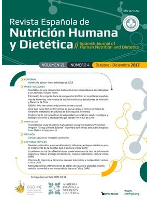 Archivos adicionales
Cómo citar
ÖRS, E. D., & Göktaş, Z. (2022). Uso de suplementos dietéticos y variables asociadas entre mujeres turcas: estudio transversal. Revista Española De Nutrición Humana Y Dietética, 26(4), 277–284. https://doi.org/10.14306/renhyd.26.4.1710
Sección
Artículos de investigación
Licencia
Derechos de autor 2020 Elif Didem ÖRS, Zeynep Göktaş
Esta obra está bajo una licencia internacional Creative Commons Atribución-CompartirIgual 4.0.