Importancia del agua corporal en patologías: diabetes
Citas
(1) Brizzolara A, Barbieri MP, Adezati L, Viviani GL. Water distribution in insulin-dependent diabetes mellitus in various states of metabolic control. Eur J Endocrinol. 1996; 135(5): 609-15.
(2) Di Mauro M, Lazzarini D, Fumelli P, Carle F, Kosmidis A. Bioelectrical impedance analysis and diabetes mellitus: which correlation among fructosamine, glycosylated haemoglobin and exchangeable potassium. Minerva Med. 2007; 98(6): 633-8.
(3) Buscemi S, Blunda G, Maneri R, Verga S. Bioelectrical characteristics of type 1 and type 2 diabetic subjects with reference to body wáter compartments. Acta Diabetol. 1998; 35(4): 220-3.
(4) Jun MH, Kim S, Ku B, Cho J, Kim K, Yoo HR, Kim JU. Glucoseindependent segmental phase angles from multi-frequency bioimpedance analysis to discriminate diabetes mellitus. Sci Rep. 2018; 8(1): 648. doi: 10.1038/s41598-017-18913-7
(5) Tzamaloukas AH, Ing TS, Siamopoulos KC, Rohrscheib M, Elisaf MS, Raj DS, Murata GH. Body fluid abnormalities in severe hyperglycemia in patients on chronic dialysis: theoretic alanalysis. J Diabetes Complications. 2007; 21(6): 374-80.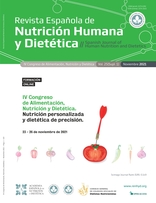 Descargas
Cómo citar
Pla, C. (2021). Importancia del agua corporal en patologías: diabetes. Revista Española De Nutrición Humana Y Dietética, 25(Sup. 3), 59–60. Recuperado a partir de https://www.renhyd.org/renhyd/article/view/1584
Sección
Resúmenes de ponencias
Licencia
Derechos de autor 2021 Celia Pla
Esta obra está bajo una licencia internacional Creative Commons Atribución-NoComercial-CompartirIgual 4.0.