Programas de intervención a través de Internet para la reducción de peso en adultos con sobrepeso y obesidad: una revisión sistemática
Palabras clave:
Adulto, Obesidad, Intervención basada en la Internet, Pérdida de peso
Resumen
Introducción: el auge de la tecnología ha posibilitado el desarrollo de programas vía Internet para abordar el problema de la obesidad, como apoyo complementario a programas presenciales. El presente estudio evalúa la evidencia sobre programas vía Internet realizados en personas adultas con sobrepeso y  obesidad, analizando los recursos y componentes principales de las intervenciones.
Material y métodos: Se realizó una revisión sistemática en las bases de datos Web of Science y Scopus. Se seleccionaron estudios de intervención en línea para la reducción de peso en población adulta. Bajo los lineamientos PRISMA, se analizó la información extrayendo datos de autoría, año de publicación, diseño del estudio, duración de la intervención, variables para evaluar la eficacia y resultados.
Resultados: Se analizaron 21 artículos, mismos que reportan diferencias significativas en peso  tras intervención en línea contrastados con modalidades presenciales o grupos control. Los programas enfatizan cambios en dieta, incremento de actividad física, auto monitoreo, fijación de metas y disponibilidad de redes sociales como variables que garantizan eficacia. La retroalimentación por parte de profesionales y las redes de apoyo parecen ser cruciales para la adherencia y el logro de reducciones de peso significativas.
Conclusiones: El aprovechamiento de la tecnología puede ser un aliado que lleve a cambios significativos en el peso de personas que viven con sobrepeso u obesidad.


Citas
(1) Honório RF, Costa MC. Factors associated with obesity in Brazilian children enrolled in the School Health Program: a case-control study. Nutr Hosp. 2014; 30(3): 526-534.
(2) Alfonso JP. Obesity. Rev Cub Salud Pública, 2013; 39(3): 424-5.
(3) Fajardo E. Childhood obesity: another problem of malnutrition. Revista Med. 2012; 20(1): 6-8.
(4) Arroyo-López PE, Carrete-Lucero L. Scope of actions to prevent overweight and obesity in adolescents. The case of Mexican public schools. Rev Gerenc Polít Salud. 2015; 14(28): 142-160.
(5) Williamson DA, Rejeski J, Lang W, Van Dorsten B, Fabricatore AN, Toledo K. Impact of a weight management program on health-related quality of life in overweight adults with type 2 diabetes. Arch Intern Med. 2009; 169(2): 163-71.
(6) Unick JL, Beavers D, Bond DS, et al. The long-term effectiveness of a lifestyle intervention in severely obese individuals. Am J Med. 2013; 126(3): 236-42.
(7) Skolnik NS, Ryan DH. Pathophysiology, epidemiology, and assessment of obesity in adults. J Fam Pract. 2014; 63(7), S3+.
(8) World Health Organization. Descriptive Note: Obesity and overweight. 2016. [citado 2020 Mar 13]. Disponible en https://www.who.int/es/news-room/fact-sheets/detail/obesity-and-overweight
(9) OECD. The Heavy Burden of Obesity: The Economics of Prevention. OECD Health Policy Studies, OECD Publishing, Paris, 2019 [citado 2020 Mar 26] Disponible en: https://doi.org/10.1787/67450d67-en.
(10) Jebb SA, Ahern AL, Olson AD et al. Primary care referral to a commercial provider for weight loss treatment versus standard care: a randomized controlled trial. Lancet. 2011; 378: 1485-92.
(11) Jolly K, Lewis A, Beach J et al. Comparison of range of commercial or primary care led weight reduction programmes with minimal intervention control for weight loss in obesity: lighten up randomized controlled trial. BMJ. 2011; 343: d6500.
(12) Baños RM., Mensorio MS, Cebolla A, Rodilla E, Palomar G, Lisón J, et al. An internet-based self-administered intervention for promoting healthy habits and weight loss in hypertensive people who are overweight or obese: a randomized controlled trial. BMC Cardiovascular Disorders. 2015; 15(83):1-9.
(13) Pew Research Center. Internet/Broadband Fact Sheet. 2019 Junio, [citado 2020 Mar 27] Disponible en: https://www.pewresearch.org/internet/fact-sheet/internet-broadband/
(14) Office of National Statistics. Internet access – households and individuals, Great Britain: 2019. 2019 [citado 2020 Abr 06] Disponible en: https://www.ons.gov.uk/peoplepopulationandcommunity/householdcharacteristics/homeinternetandsocialmediausage/bulletins/internetaccesshouseholdsandindividuals/2019
(15) Kodama S, Saito K, Tanaka S, Horikawa C, Fujiwara K, Hirasawa R, et al. Effect of web-based lifestyle modification on weight control: a meta-analysis. Int J Obes. 2012; 36: 675-85.
(16) Griffiths F, Lindenmeyer A, Powell J, Lowe P, Thorogood M. Why are health care interventions delivered over the internet? A systematic review of the published literature. J Med Internet Res. 2006; 8: e10.
(17) Ramadas A, Quek KF, Chan CKY, Oldenburg B. Web-based interventions for the management of type 2 diabetes mellitus: a systematic review of recent evidence. Int J Med Inform. 2011; 80: 389-405.
(18) Bensley RJ, Brusk JJ, Rivas J. Key Principles in internet-based weight management systems. Am J Health Behav. 2010; 34(2): 206-13
(19) Weinstein PK. A review of weight loss programs delivered via the Internet. J Cardiovasc Nurs. 2006; 21: 251-8.
(20) Saperstein SL, Atkinson NL, Gold RS. The impact of Internet use for weight loss. Obes Rev. 2007; 8: 459-65.
(21) Norman GJ, Zabinski MF, Adams MA et al. A review of eHealth interventions for physical activity and dietary behavior change. Am J Prev Med. 2007; 33: 336-45.
(22) Manzoni GM, Pagnini F, Corti S, Molinari E, Castelnuovo G. Internet-based behavioral interventions for obesity: An updated systematic review. Clin Pract Epidemiol Ment Health. 2011; 7:19-28.
(23) Bacigalupo R, Cudd P, Littlewood C, Bisell P, Hawley MS, Buckley H. Interventions employing mobile technology for overweight and obesity: an early systematic review of randomized controlled trials. Obes Rev. 2013; 14: 279-91.
(24) Moher D, Liberati A, Tetzlaff J, Altman DG, Grupo PRISMA. Ítems de referencia para publicar Revisiones Sistemáticas y Metaanálisis: La Declaración PRISMA. Rev Esp Nutr Hum Diet. 2014; 18(3): 172 - 181
(25) Higgins JPT, Thomas J, Chandler J, Cumpston M, Li T, Page MJ, Welch VA (editors). Cochrane Handbook for Systematic Reviews of Interventions version 6.0 (updated July 2019). Cochrane, 2019. Available from www.training.cochrane.org/handbook.
(26) Watson A, Bickmore T, Cange A, Kulshreshtha A, Kvedar J. An Internet-based virtual coach to promote physical activity adherence in overweight adults: Randomized controlled trial. J Med Internet Res. 2012; 14(1):1-12.
(27) Richardson CR, Buis LR, Janney AW, Goodrich DE, Sen A, Hess ML, et al. An online community improves adherence in an internet-mediated walking program. Part 1: Results of a randomized controlled trial. J Med Internet Res. 2010; 12(4): 1-16.
(28) Stites SD, Singletary SB, Menasha A, Cooblall C, Hantula D, Axelrod S, et al. Pre-ordering lunch at work. Results of the what to eat for lunch study. Appetite. 2015; 84: 88-97.
(29) Gorin AA, Raynor HA, Niemeier HM, Wing RR. Home grocery delivery improves the household food environments of behavioral weight loss participants: Results of an 8-week pilot study. Int J of Behav Nutr Phys Act. 2007; 4(58): 1-6.
(30) Poncela-Casasnovas J, Spring B, McClary D, Moller AC, Mukogo R, Pellegrini CA, et al. Social embeddedness in an online weight management programme is linked to greater weight loss. J R Soc Interface. 2015; 12:1-12.
(31) Neve MJ, Collins CE, Morgan PJ. Dropout, nonusage attrition, and pretreatment predictors of nonusage attrition in a commercial web-based weight loss program. J Med Internet Res. 2010; 12(4): 1-16.
(32) Crane MM, Lutes LD, Ward DS, Bowling JM, Tate DF. A randomized trial testing the efficacy of a novel approach to weight loss among men with overweight and obesity. Obesity. 2015; 23: 2398-405.
(33) Unick JL, Leahey T, Kent K, Wing RR. Examination of whether early weight loss predicts 1-year weight loss among those enrolled in an Internet-based weight loss program. Int J Obes. 2015; 39: 1558-60.
(34) Gow RW, Trace SE, Mazzeo SE. Preventing weight gain in first year college students: An online intervention to prevent the "freshman fifteen". Eat Behav. 2010; 11: 33-9.
(35) Hutchesson MJ, Yin C, Morgan P, Callister R, Collins C. Enhancement of self-monitoring in a Web-based weight loss program by extra individualized feedback and reminders: Randomized trial. J Med Internet Res. 2016; 18(4): 1-11.
(36) Dennison L, Morrison L, Lloyd S, Phillips D, Stuart B, Williams S, et al. Does brief telephone support improve engagement with a Web-based weight management intervention? Randomized controlled trial. J Med Internet Res. 2014; 16(3): 1-15.
(37) Morgan PJ, Scott HA, Young MD, Plotnikoff RC, Collins CE, Callister, R. Associations between program outcomes and adherence to Social Cognitive Theory tasks: process evaluation of the SHED-IT community weight loss trial for men. Int J of Behav Nutr Phys Act. 2014; 11(89): 1-14.
(38) Yardley L, Ware LJ, Smith ER, Williams S, Bradbury KJ, Arden-Close EJ, et al. Randomised controlled feasibility trial of a web-based weight management intervention with nurse support for obese patients in primary care. Int J Behav Nutr Phys Act. 2014; 11(67): 1-11.
(39) Johnston, CA, Rost S, Miller-Kovach K, Moreno JP, Foreyt JP. A Randomized Controlled Trial of a Community-based Behavioral Counseling Program. Am J Med. 2013; 126(12):1143.e19-1143.e24.
(40) Collins CE, Morgan PJ, Jones P, Fletcher K, Martin J, Aguiar EJ, et al. A 12-week commercial Web-based weight-loss program for overweight and obese adults: randomized controlled trial comparing basic versus enhanced features. J Med Internet Res. 2012; 14(2):2-15.
(41) Morgan PJ, Collins CE, Plotnikoff RC, Cook AT, Berthon B, Mitchell S, et al. Efficacy of a workplace-based weight loss program for overweight male shift workers: The Workplace POWER (Preventing Obesity Without Eating like a Rabbit) randomized controlled trial. Prev Med. 2011; 52: 317-25.
(42) Morgan PJ, Lubans DR, Collins CE, Warren JM, Callister, R. The SHED-IT randomized controlled trial: evaluation of an Internet-based weight-loss program for men. Obesity. 2009; 17(11): 2025-32.
(43) Tate DF, Wing RR, Winett RA. Using Internet technology to deliver a behavioral weight loss program. JAMA. 2001; 285(9): 1172-7.
(44) Hutchesson MJ, Morgan PJ, Callister R, Pranata I, Skinner G, Collins CE. Be positive be healthy: development and implementation of a targeted e-health weight loss program for young woman. Telemed J E Health. 2016; 22(6): 519-28.
(45) Sherifali D, Hess R, McTigue KM, Brozic A, Ng K, Gerstein H. Evaluating the feasibility and impact of an internet-based lifestyle management program in a diabetes care setting. Diabetes Technol Ther. 2014; 16(6): 358-62.
(46) Hutchesson MJ, Collins CE, Morgan PJ, Callister R. An 8-week Web-based weight loss challenge with celebrity endorsement and enhanced social support: observational study. J Med Internet Res, 2013; 15(7):1-8.
(47) Hwang KO, Ning J, Trickey, AW, Sciamanna CN. Website usage and weight loss in a free commercial online weight loss program: retrospective cohort study. J Med Internet Res. 2013; 15(1): 1-10.
(48) Krukowsky RA, Harvey-Berino J, Bursac Z, Ashikaga T, Smith D. Patterns of Success: Online self-monitoring in a Web-based behavioral weight control program. Health Psychol. 2013; 32(2): 164-170.
(49) Longin R, Grasse M, Aspalter R, Waldherr K. Effectiveness of the online weight reduction program Kilocoach team and comparison with other evaluated commercial direct intervention and online programs. Obes Facts. 2012; 5: 372-83.
(50) Gokee J, Leahey TM, Weinberg BM, Kumar R, Wing, RR. Young adults' performance in a low-intensity weight loss campaign. Obes. 2012; 20(11): 2314-6.
(51) Binks M, van Mierlo T. Utilization patterns and user characteristics of an ad libitum Internet weight loss program. J Med Internet Res. 2010; 12(1): 1-5.
(52) McTigue KM., Conroy MB, Hess R, Bryce CL, Fiorillo AB, Fischer GS, et al. Using the Internet to Translate an Evidence-Based Lifestyle Intervention into Practice. Telemed JE Health. 2009; 15(9): 851-8.
(53) Rosa Garrido MC. Sesgo de publicación: ¿existe también en estudios de metanálisis? Index Enferm [Internet]. 2016 Jun [citado 2020 Jun 12]; 25(1-2): 7-8. Disponible en: http://scielo.isciii.es/scielo.php?script=sci_arttext&pid=S1132-12962016000100002&lng=es.
(54) Escribano D. Esta es la historia de las aplicaciones móviles. 2018. [citado 2020 Abr 0326]. Disponible en: https://www.skyscanner.es/noticias/esta-es-la-historia-de-las-aplicaciones-moviles
(55) Sherrington A, Newham JJ, Bell R, Adamson A, McColl E, Araujo-Soares V. Systematic review and meta-analysis of internet delivered interventions providing personalized feedback for weight loss in overweight and obese adults. Obes Rev. (2016) 17, 541-51.
(56) Bays HE, McCarthy W, Christensen S, Tondt J, Karjoo S, Davisson L, et al. Obesity algorithm eBook, presented by the Obesity Medicine Association. www.obesityalgorithm.org. 2020. [citado 2020 Mar 29] Disponible en: https://obesitymedicine.org/obesity-algorithm/
(57) Harvey-Berino J, West D, Krukowski R, Prewitt E, VanBiervliet A, Ashikaga T, et al. Internet delivered behavioral obesity treatment. Prev Med. 2010; 51(2): 123-8.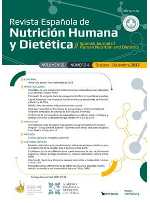 Descargas
Cómo citar
Mata-González, E. E., Meza-Peña, C., & Saldaña García, C. (2020). Programas de intervención a través de Internet para la reducción de peso en adultos con sobrepeso y obesidad: una revisión sistemática. Revista Española De Nutrición Humana Y Dietética, 24(4), 324–335. https://doi.org/10.14306/renhyd.24.4.984
Sección
Artículos de investigación
Licencia
A continuación se reproduce el texto relativo a las garantías, los derechos de propiedad intelectual y condiciones las condiciones de licencias aplicables a los trabajos:
Garantías. El envío de sus textos a través del sistema de gestión de artículo, incluyendo cualesquier gráfico, diseño o ilustraciones (en adelante, genéricamente denominados, "los trabajos") supondrá la aceptación de las siguientes condiciones:
El/la autor/a garantiza que los trabajos que remite a través del sistema para su publicación en RENHYD o en cualesquier producto derivado de la misma son originales, inéditos y de su autoría, y que los mismos no han sido publicados con anterioridad ni remitidos simultáneamente a ninguna otra editorial para su publicación.

Igualmente, el/la autor/a garantiza, bajo su responsabilidad, que posee todos los derechos de explotación sobre los trabajos, que en ningún caso estos vulneran derechos de terceros y que, en el caso de que supongan la explotación de derechos de terceros, el autor ha obtenido la correspondiente autorización para explotarlos y autorizar su explotación por parte de la Academia Española de Dietética y Nutrición.

Asimismo, el/la autor/a garantiza que los trabajos que remite a través del sistema no incumplen la normativa de protección de datos de carácter personal. En especial, garantiza haber obtenido la previa autorización y el consentimiento previo y escrito de los pacientes o sus familiares para su publicación, cuando dichos pacientes sean identificados en los trabajos o cuando la información publicada les haga fácilmente identificables.
Copyright y licencias aplicadas a los artículos. Los/as autores/as que publican en esta revista están de acuerdo con los siguientes términos:
Los/as autores/as conservan los derechos de autor y garantizan a la revista el derecho de ser la primera en publicar el trabajo y licenciarla bajo una licencia Creative Commons Reconocimiento-CompartirIgual 4.0 Internacional (https://creativecommons.org/licenses/by-sa/4.0/deed.es_ES). Bajo esta licencia de Acceso Abierto, el/la autor/a permite a otros compartir (copiar o redistribuir) o adaptar (transformar, remezclar o modificar) la versión completa o parcial de su trabajo incluso cuando sea con fines comerciales, que se realice adecuadamente un reconocimiento de la autoría del trabajo y la publicación original en esta revista, que se comparta bajo una licencia que no sea más restrictiva que la actual, que se comunique adecuadamente al autor/a de correspondencia del trabajo original y que se identifique de forma clara que los/las autores/as del trabajo original no han revisado la adaptación y que no necesariamente están de acuerdo con ella. Este tipo de licencia facilita la libertad de reutilización y asegura que los contenidos de RENHYD puedan ser utilizados para las necesidades de investigación.

Los/las autores/as, al conservar los derechos de autor de la versión de la obra publicada en la revista,  pueden establecer por separado acuerdos adicionales para favorecer una distribución más eficiente, siempre que se realice un reconocimiento de autoría y de su publicación inicial en esta revista. Si un tercero quiere usar contenidos de esta revista con fines comerciales o bajo licencias más restrictivas, deberá pedir permiso por escrito al autor/a de correspondencia, quién conserva sus derechos de autor, y se deberá realizar un reconocimiento de autoría y de su publicación inicial en esta revista.

Se permite y se anima a los/as autores/as a difundir sus trabajos electrónicamente (por ejemplo, en repositorios institucionales o en su propio sitio web) ya sea en su versión pre-print, post-print o en su versión final maquetada (color verde de Sherpa-Romeo http://www.sherpa.ac.uk/romeoinfo.html), ya que puede dar lugar a intercambios productivos, así como a una citación más temprana y mayor de los trabajos publicados (Véase The Effect of Open Access, en inglés: http://opcit.eprints.org/oacitation-biblio.html)
¿Puede un autor usar los contenidos publicados por él/ella misma en otra revista?
Como autor/a, no debe nunca asumir que usted puede utilizar libremente los contenidos que ha publicado en otra revista, ya que dichos permisos dependen de las licencias que apliquen las otras revistas a sus artículos. Antes de usar contenidos de artículos publicados en otras revistas, deberá revisar las condiciones de la licencia que se haya aplicado a dicho artículo y contactar con los/as editores/as de dicha revista siempre que le surjan dudas al respecto. RENHYD no le puede ofrecer consejo legal sobre licencias de terceras partes. Si la licencia aplicada a un artículo no le permite el uso de contenidos del mismo, deberá pedir permiso escrito al autor/a y al editor/a y realizar siempre una atribución de autoría de forma correcta.