Etiquetado frontal como medida de salud pública: bases científicas y adopción a nivel global y nacional
Citas
(1) GBD 2019 Risk Factors Collaborators. Global burden of 87 risk factors in 204 countries and territories, 1990-2019: a systematic analysis for the Global Burden of Disease Study 2019. Lancet. 2020; 396: 1223-49.
(2) Swinburn BA, Kraak VI, Allender S, Atkins VJ, Baker PI, Bogard JR, et al. The Global Syndemic of Obesity, Undernutrition, and Climate Change: The Lancet Commission report. Lancet. 2019;393: 791-846.
(3) Peeters A. Obesity and the future of food policies that promote healthy diets. Nat Rev Endocrinol. 2018; 14: 430-37.
(4) Kanter R, Vanderlee L, Vandevijvere S. Front-of-package nutrition labelling policy: global progress and future directions. Publ Health Nutr. 2018; 21: 1399e408.
(5) Reyes M, Smith Taillie L, Popkin B, Kanter R, Vandevijvere S, Corvalán C. Changes in the amount of nutrient of packaged foods and beverages after the initial implementation of the Chilean Law of Food Labelling and Advertising: A nonexperimental prospective study. PLoS Med. 2020; 17: e1003220.
(6) Bablani L, Ni Mhurchu C, Neal B, Skeels CL, Staub KE, Blakely T. The impact of voluntary front-of-pack nutrition labelling on packaged food reformulation: A difference-in-differences analysis of the Australasian Health Star Rating scheme. PLoS Med. 2020; 17: e1003427.
(7) Julia C, Hercberg S. Development of a new front-of-pack nutrition label in France: the 5-colour Nutri-score. Public Health Panorama. 2017; 3: 712e25.
(8) Gómez-Donoso C, Martínez-González MÁ, Perez-Cornago A, Sayón-Orea C, Martínez JA, Bes-Rastrollo M. Association between the nutrient profile system underpinning the Nutri-Score front of-pack nutrition label and mortality in the SUN project: A prospective cohort study. Clin Nutr. 2021; 40: 1085-94.
(9) Donat-Vargas C, Sandoval-Insausti H, Rey-García J, Ramón Banegas J, Rodríguez-Artalejo F, Guallar-Castillón P. Fivecolor Nutri-Score labeling and mortality risk in a nationwide, population-based cohort in Spain: the Study on Nutrition and Cardiovascular Risk in Spain (ENRICA). Am J Clin Nutr. 2021;113: 1301-11.
(10) Deschasaux M, Huybrechts I, Julia C, Hercberg S, Egnell M, Srour B, et al. Association between nutritional profiles of foods underlying Nutri-Score front-of-pack labels and mortality: EPIC cohort study in 10 European countries. BMJ. 2020; 370: m3173.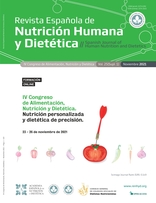 Descargas
Cómo citar
Gómez Donoso, C. (2021). Etiquetado frontal como medida de salud pública: bases científicas y adopción a nivel global y nacional. Revista Española De Nutrición Humana Y Dietética, 25(Sup. 3), 71–72. Recuperado a partir de https://www.renhyd.org/renhyd/article/view/1591
Sección
Resúmenes de ponencias
Licencia
Derechos de autor 2021 Clara Gómez Donoso
Esta obra está bajo una licencia internacional Creative Commons Atribución-NoComercial-CompartirIgual 4.0.