Efecto de un programa multiprofesional en la promoción de la salud alimentaria de las personas mayores: un estudio longitudinal.
Palabras clave:
Envejecimiento, Promoción de la Salud, Fenómenos Fisiológicos Nutricionales del Anciano, Calidad de Vida
Resumen
Objetivo: Analizar la calidad alimentaria de los adultos mayores participantes en un proyecto multiprofesional de promoción de la salud y longevidad saludable.
Metodología: Se reclutaron 55 adultos mayores de ≥ 60 años (66,03 ± 3,68 años) residentes en el sur de Brasil. Sin embargo, 28 ancianos abandonaron las intervenciones. Así, se evaluaron 27 ancianos (antes y después de las intervenciones de 12 semanas). Para evaluar la calidad de los alimentos se utilizaron los datos del registro alimentario de tres días no consecutivos y el índice de alimentación saludable (IES), que se aplicaron antes y después de las intervenciones. La intervención se desarrolló durante tres meses, con clases teórico-prácticas en grupos multidisciplinares como educación física, psicología y nutrición (con reeducación alimentaria - sin plan de nutrición). Se calcularon la media, la desviación estándar (±) y el intervalo de confianza del 95% (IC del 95%). La comparación entre pre y postintervención se realizó mediante la prueba t pareada, asumiendo una p ≤ 0,05.
Resultados: Después de 12 semanas, se observó que los ancianos mostraron valores más altos para la IES después de las intervenciones (pre: 47,78 ± 14,23 puntos; IC 95%: 42,41-53,15, versus 56,30 ± 13,05, IC 95%: 51,37-61,22; con p = 0,029; d = 0,59; efecto medio).
Conclusiones: un enfoque multidisciplinario que incluya una intervención nutricional podría promover cambios positivos en la calidad alimentaria de los ancianos investigados. Como limitación se destaca la ausencia de un grupo control y la realización de un ensayo controlado aleatorizado. Sin embargo, este estudio ya promueve direcciones para brindar salud nutricional a las personas mayores.
Citas
(1) Khan SS, Singer BD, Vaughan DE. Molecular and physiological manifestations and measurement of aging in humans. Aging Cell. 2017;16(4):624-33, doi: 10.1111/acel.12601.
(2) IBGE. Características gerais dos domicílios e dos moradores (2019). Pesqui Nac Por Amostra Domicílios Contínua. 2019:1-8.
(3) Miranda GMD, Mendes A da CG, da Silva ALA. Population aging in Brazil: current and future social challenges and consequences. Rev Bras Geriatr E Gerontol. 2016;19(3):507-19, doi: 10.1590/1809-98232016019.150140.
(4) Harmell AL, Jeste D, Depp C. Strategies for Successful Aging: A Research Update. Curr Psychiatry Rep. 2014;16(10):476, doi: 10.1007/s11920-014-0476-6.
(5) Mendoza-Ruvalcaba NM, Fernández-Ballesteros R. Effectiveness of the Vital Aging program to promote active aging in Mexican older adults. Clin Interv Aging. 2016;Volume 11:1631-44, doi: 10.2147/CIA.S102930.
(6) Maresova P, Javanmardi E, Barakovic S, Barakovic Husic J, Tomsone S, Krejcar O, et al. Consequences of chronic diseases and other limitations associated with old age – a scoping review. BMC Public Health. 2019;19(1):1431, doi: 10.1186/s12889-019-7762-5.
(7) Rauber F, da Costa Louzada ML, Steele E, Millett C, Monteiro CA, Levy RB. Ultra-Processed Food Consumption and Chronic Non-Communicable Diseases-Related Dietary Nutrient Profile in the UK (2008–2014). Nutrients. 2018;10(5):587, doi: 10.3390/nu10050587.
(8) Lovatto AW, Molz P, Rech Franke SI.Fatores Associados Ao Consumo De Frutas, Verduras E Alimentos Industrializados Em Idosos. Rev Bras Obesidade Nutr E Emagrecimento. 2019;13:984-91.
(9) Sandoval-Insausti H, Blanco-Rojo R, Graciani A, López-García E, Moreno-Franco B, Laclaustra M, et al. Ultra-processed Food Consumption and Incident Frailty: A Prospective Cohort Study of Older Adults. J Gerontol Ser A. 2020;75(6):1126-33, doi: 10.1093/gerona/glz140.
(10) Dawalibi NW, Anacleto GMC, Witter C, Goulart RMM, de Aquino R de C Envelhecimento e qualidade de vida: análise da produção científica da SciELO. Estud Psicol Camp. 2013;30(3):393-403, doi: 10.1590/S0103-166X2013000300009.
(11) Tramujas Vasconcellos Neumann L, Albert SM. Aging in Brazil. The Gerontologist. 2018;58(4):611-7, doi: 10.1093/geront/gny019.
(12) Brasil. Portaria n. 2.528 de 19 de outrubro de 2006 - Política Nacional de Saúde da Pessoa Idosa. Diário Of. 2006.
(13) Brasil. Portaria no 424, de 19 de março de 2013. 2013.
(14) Des Jarlais DC, Lyles C, Crepaz N. Improving the Reporting Quality of Nonrandomized Evaluations of Behavioral and Public Health Interventions: The TREND Statement. Am J Public Health. 2004, doi: 10.2105/AJPH.94.3.361.
(15) Dettwyler KA. Anthropometric standardization reference manual, abridged edition. Edited by Timothy G. Lohman, Alex F. Roche, and Reynaldo Martoll. Champaign, Illinois: Human Kinetic Books. 1991. 90 pp. $16.00 (paper). Am J Phys Anthropol. 1993;92(2):239-41, doi: 10.1002/ajpa.1330920214.
(16) OPAS. Encuesta Multicentrica salud beinestar y envejecimiento (SABE) em América Latina el Caribe: Informe Preliminar. XXXVI Reunión del Comité asesor de investigaciones em Salud; 9-11 jun 2001.
(17) Malta MB, Papini SJ, Corrente JE. Avaliação da alimentação de idosos de município paulista: aplicação do Índice de Alimentação Saudável. Ciênc Saúde Coletiva. 2013;18(2):377-84, doi: 10.1590/S1413-81232013000200009.
(18) Mota JF, Rinaldi AEM, Pereira AF, Maestá N, Scarpin MM, Burini RC. Adaptação do índice de alimentação saudável ao guia alimentar da população brasileira. Rev Nutr. 2008;21(5):545-52, doi: 10.1590/S1415-52732008000500007.
(19) Philippi ST, Latterza AR, Cruz ATR, Ribeiro LC. Pirâmide alimentar adaptada: guia para escolha dos alimentos. Rev Nutr. 1999;12(1):65-80, doi: 10.1590/S1415-52731999000100006.
(20) Malta D, Silva M, Albuquerque G, Amorim R, Rodrigues G, Silva T, et al. Política Nacional de Promoção da Saúde, descrição da implementação do eixo atividade física e práticas corporais, 2006 a 2014. Rev Bras Atividade Física Saúde. 2014, doi: 10.12820/rbafs.v.19n3p286.
(21) Cohen J. Statistical Power Analysis for the Behavioural Science (2nd Edition). 1988.
(22) Nowson CA, Service C, Appleton J, Grieger JA. The impact of dietary factors on indices of chronic disease in older people: A systematic review. J Nutr Health Aging. 2018;22(2):282-96, doi: 10.1007/s12603-017-0920-5.
(23) Miller V, Mente A, Dehghan M, Rangarajan S, Zhang X, Swaminathan S, et al. Fruit, vegetable, and legume intake, and cardiovascular disease and deaths in 18 countries (PURE): a prospective cohort study. The Lancet. 2017;390(10107):2037-49, doi: 10.1016/S0140-6736(17)32253-5.
(24) Miquel S, Aspiras M, Day JEL. Does reduced mastication influence cognitive and systemic health during aging? Physiol Behav. 2018;188:239-50, doi: 10.1016/j.physbeh.2018.02.018.
(25) Theou O, Stathokostas L, Roland KP, Jakobi JM, Patterson C, Vandervoort AA, et al. The Effectiveness of Exercise Interventions for the Management of Frailty: A Systematic Review. J Aging Res. 2011;2011:1-19, doi: 10.4061/2011/569194.
(26) Chen C, Ye Y, Zhang Y, Pan X-F, Pan A. Weight change across adulthood in relation to all cause and cause specific mortality: prospective cohort study. BMJ. 2019:l5584, doi: 10.1136/bmj.l5584.
(27) Hulman A, Ibsen DB, Laursen ASD, Dahm CC. Body mass index trajectories preceding first report of poor self-rated health: A longitudinal case-control analysis of the English Longitudinal Study of Ageing. PLOS ONE. 2019;14(2):e0212862, doi: 10.1371/journal.pone.0212862.
(28) Fontana L, Hu FB. Optimal body weight for health and longevity: bridging basic, clinical, and population research. Aging Cell. 2014;13(3):391-400, doi: 10.1111/acel.12207.
(29) Stenholm S, Head J, Aalto V, Kivimäki M, Kawachi I, Zins M, et al. Body mass index as a predictor of healthy and disease-free life expectancy between ages 50 and 75: a multicohort study. Int J Obes. 2017;41(5):769-75, doi: 10.1038/ijo.2017.29.
(30) Sheehan TJ, DuBrava S, DeChello LM, Fang Z. Rates of weight change for black and white Americans over a twenty year period. Int J Obes. 2003;27(4):498-504, doi: 10.1038/sj.ijo.0802263.
(31) Clegg ME, Williams EA. Optimizing nutrition in older people. Maturitas. 2018;112:34-8, doi: 10.1016/j.maturitas.2018.04.001.
(32) Camerotto C, Cupisti A, D'Alessandro C, Muzio F, Gallieni M. Dietary Fiber and Gut Microbiota in Renal Diets. Nutrients. 2019;11(9):2149, doi: 10.3390/nu11092149.
(33) Claesson MJ, Cusack S, O'Sullivan O, Greene-Diniz R, de Weerd H, Flannery E, et al. Composition, variability, and temporal stability of the intestinal microbiota of the elderly. Proc Natl Acad Sci. 2011;108(Supplement_1):4586-91, doi: 10.1073/pnas.1000097107.
(34) Dikeman CL, Fahey GC. Viscosity as Related to Dietary Fiber: A Review. Crit Rev Food Sci Nutr. 2006;46(8):649-63, doi: 10.1080/10408390500511862.
(35) Keller HH. Promoting food intake in older adults living in the community: a review. Appl Physiol Nutr Metab. 2007;32(6):991-1000, doi: 10.1139/H07-067.
(36) Nowson C, O'Connell S. Protein requirements and recommendations for older people: A review. Nutrients. 2015, doi: 10.3390/nu7085311.
(37) WHO. Protein and amino acid requirements in human nutrition. World Health Organ Tech Rep Ser. 2007.
(38) Cruz-Jentoft AJ, Bahat G, Bauer J, Boirie Y, Bruyère O, Cederholm T, et al. Sarcopenia: revised European consensus on definition and diagnosis. Age Ageing. 2019;48(1):16-31, doi: 10.1093/ageing/afy169.
(39) O'Keeffe M, Kelly M, O'Herlihy E, O'Toole PW, Kearney PM, Timmons S, et al. Potentially modifiable determinants of malnutrition in older adults: A systematic review. Clin Nutr. 2019;38(6):2477-98, doi: 10.1016/j.clnu.2018.12.007.
(40) Knapp TR. Why Is the One-Group Pretest–Posttest Design Still Used? Clin Nurs Res. 2016, doi: 10.1177/1054773816666280.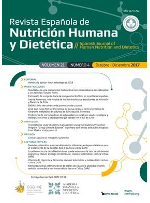 Cómo citar
Cristina de Souza Marques, D., Caroline dos Santos, I. ., Lira Campinha, N. ., Ghiraldi de Souza Marques, M. ., Mendes de Oliveira, F., & Henrique Magnani Branco, B. (2022). Efecto de un programa multiprofesional en la promoción de la salud alimentaria de las personas mayores: un estudio longitudinal. Revista Española De Nutrición Humana Y Dietética, 26(1), 8–18. https://doi.org/10.14306/renhyd.26.1.1367
Sección
Artículos de investigación
Licencia
Derechos de autor 2020 Déborah Cristina de Souza Marques, Isabella Caroline dos Santos, Nathália Lira Campinha, Marilene Ghiraldi de Souza Marques, Fabiano Mendes de Oliveira, Braulio Henrique Magnani Branco
Esta obra está bajo una licencia internacional Creative Commons Atribución-NoComercial-CompartirIgual 4.0.
A continuación se reproduce el texto relativo a las garantías, los derechos de propiedad intelectual y condiciones las condiciones de licencias aplicables a los trabajos:
Garantías. El envío de sus textos a través del sistema de gestión de artículo, incluyendo cualesquier gráfico, diseño o ilustraciones (en adelante, genéricamente denominados, "los trabajos") supondrá la aceptación de las siguientes condiciones:
El/la autor/a garantiza que los trabajos que remite a través del sistema para su publicación en RENHYD o en cualesquier producto derivado de la misma son originales, inéditos y de su autoría, y que los mismos no han sido publicados con anterioridad ni remitidos simultáneamente a ninguna otra editorial para su publicación.

Igualmente, el/la autor/a garantiza, bajo su responsabilidad, que posee todos los derechos de explotación sobre los trabajos, que en ningún caso estos vulneran derechos de terceros y que, en el caso de que supongan la explotación de derechos de terceros, el autor ha obtenido la correspondiente autorización para explotarlos y autorizar su explotación por parte de la Academia Española de Dietética y Nutrición.

Asimismo, el/la autor/a garantiza que los trabajos que remite a través del sistema no incumplen la normativa de protección de datos de carácter personal. En especial, garantiza haber obtenido la previa autorización y el consentimiento previo y escrito de los pacientes o sus familiares para su publicación, cuando dichos pacientes sean identificados en los trabajos o cuando la información publicada les haga fácilmente identificables.
Copyright y licencias aplicadas a los artículos. Los/as autores/as que publican en esta revista están de acuerdo con los siguientes términos:
Los/as autores/as conservan los derechos de autor y garantizan a la revista el derecho de ser la primera en publicar el trabajo y licenciarla bajo una licencia Creative Commons Reconocimiento-CompartirIgual 4.0 Internacional (https://creativecommons.org/licenses/by-sa/4.0/deed.es_ES). Bajo esta licencia de Acceso Abierto, el/la autor/a permite a otros compartir (copiar o redistribuir) o adaptar (transformar, remezclar o modificar) la versión completa o parcial de su trabajo incluso cuando sea con fines comerciales, que se realice adecuadamente un reconocimiento de la autoría del trabajo y la publicación original en esta revista, que se comparta bajo una licencia que no sea más restrictiva que la actual, que se comunique adecuadamente al autor/a de correspondencia del trabajo original y que se identifique de forma clara que los/las autores/as del trabajo original no han revisado la adaptación y que no necesariamente están de acuerdo con ella. Este tipo de licencia facilita la libertad de reutilización y asegura que los contenidos de RENHYD puedan ser utilizados para las necesidades de investigación.

Los/las autores/as, al conservar los derechos de autor de la versión de la obra publicada en la revista,  pueden establecer por separado acuerdos adicionales para favorecer una distribución más eficiente, siempre que se realice un reconocimiento de autoría y de su publicación inicial en esta revista. Si un tercero quiere usar contenidos de esta revista con fines comerciales o bajo licencias más restrictivas, deberá pedir permiso por escrito al autor/a de correspondencia, quién conserva sus derechos de autor, y se deberá realizar un reconocimiento de autoría y de su publicación inicial en esta revista.

Se permite y se anima a los/as autores/as a difundir sus trabajos electrónicamente (por ejemplo, en repositorios institucionales o en su propio sitio web) ya sea en su versión pre-print, post-print o en su versión final maquetada (color verde de Sherpa-Romeo http://www.sherpa.ac.uk/romeoinfo.html), ya que puede dar lugar a intercambios productivos, así como a una citación más temprana y mayor de los trabajos publicados (Véase The Effect of Open Access, en inglés: http://opcit.eprints.org/oacitation-biblio.html)
¿Puede un autor usar los contenidos publicados por él/ella misma en otra revista?
Como autor/a, no debe nunca asumir que usted puede utilizar libremente los contenidos que ha publicado en otra revista, ya que dichos permisos dependen de las licencias que apliquen las otras revistas a sus artículos. Antes de usar contenidos de artículos publicados en otras revistas, deberá revisar las condiciones de la licencia que se haya aplicado a dicho artículo y contactar con los/as editores/as de dicha revista siempre que le surjan dudas al respecto. RENHYD no le puede ofrecer consejo legal sobre licencias de terceras partes. Si la licencia aplicada a un artículo no le permite el uso de contenidos del mismo, deberá pedir permiso escrito al autor/a y al editor/a y realizar siempre una atribución de autoría de forma correcta.