Consumo de bebidas azucaradas, verduras y frutas en sujetos con alteración del metabolismo de la glucosa
Palabras clave:
Diabetes Mellitus Tipo 2, Bebidas Azucaradas, Frutas, Verduras, Diagnóstico
Resumen
Introducción: Poco se conoce sobre los patrones de dieta de individuos con diabetes mellitus tipo 2 (DM2) en Perú. El objetivo del presente estudio fue determinar si existe asociación entre la alteración del metabolismo de la glucosa y ciertos patrones de dieta (consumo de bebidas azucaradas, verduras y frutas).
Material y métodos: Análisis secundario de un estudio poblacional de tipo transversal realizado en Tumbes, en el norte del Perú. Las variables resultado fueron consumo de bebidas azucaradas, consumo de verduras y consumo de frutas, definidas por autoreporte; mientras que la exposición fue la alteración del metabolismo de la glucosa (euglicémico, con DM2 pero sin diagnóstico previo, y con DM2 y diagnóstico previo), basado en la prueba de tolerancia oral a la glucosa. Para evaluar las asociaciones de interés, se crearon modelos de regresión de Poisson con varianza robusta y se reportaron razones de prevalencia (RP) e intervalos de confianza al 95% (IC 95%).
Resultados: Un total de 1607 individuos, media de edad de 48,2 (DE: 10,6), y 809 (50,3%) mujeres, fueron incluidos en los análisis. La prevalencia de DM2 fue de 11,0% (IC95%: 9,5%–12,6%), y de ellos, 105 (59,7%) tuvieron diagnóstico previo. Solo 213 (13,3%) consumieron bebidas azucaradas >1 vez/semana, mientras que 409 (25,5%) y 736 (45,8%) consumieron verduras y frutas en forma casi diaria, respectivamente. Aquellos con diagnóstico previo de DM2 tuvieron menor probabilidad de consumir bebidas azucaradas (algunas veces vs. nunca: RP=0,57; IC95%: 0,41–0,78 y >1 vez/semana vs. nunca: RP=0,39; IC95%: 0,18–0,85). Ni el consumo de frutas ni el de verduras fue mayor en aquellos con o sin diagnóstico previo de DM2.
Conclusiones: Comparados con los euglicémicos, los individuos con diagnóstico previo de DM2 tuvieron un menor consumo de bebidas azucaradas, pero dicha asociación no estuvo presente en aquellos con DM2 sin diagnóstico previo. El consumo de frutas y verduras no fue diferente entre las categorías de alteración del metabolismo de la glucosa estudiadas.
Citas
(1) NCD-RisC Factor Collaboration (NCD-RisC). Worldwide trends in diabetes since 1980: a pooled analysis of 751 population-based studies with 4.4 million participants. Lancet 2016;387(10027):1513-30.
(2) World Health Organization. Global report on diabetes. Geneva, Switzerland: WHO; 2016.
(3) International Diabetes Federation. IDF Diabetes Atlas, 9th edn. Brussels, Belgium: IDF; 2019.
(4) NCD-RisC Factor Collaboration (NCD-RisC) - Americas Working Group. Trends in cardiometabolic risk factors in the Americas between 1980 and 2014: a pooled analysis of population-based surveys. Lancet Glob Health 2020;8(1):e123-e33.
(5) Carrillo-Larco RM, Bernabé-Ortiz A. [Type 2 diabetes mellitus in peru: a systematic review of prevalence and incidence in the general population]. Rev Peru Med Exp Salud Publica 2019;36(1):26-36.
(6) Bernabé-Ortiz A, Carrillo-Larco RM, Gilman RH, Checkley W, Smeeth L, Miranda JJ. Contribution of modifiable risk factors for hypertension and type-2 diabetes in Peruvian resource-limited settings. J Epidemiol Community Health 2016;70(1):49-55.
(7) Lerner AG, Bernabe-Ortiz A, Gilman RH, Smeeth L, Miranda JJ. The "rule of halves" does not apply in Peru: awareness, treatment, and control of hypertension and diabetes in rural, urban, and rural-to-urban migrants. Crit Pathw Cardiol 2013;12(2):53-8.
(8) Cloix L, Caille A, Helmer C, Bourdel-Marchasson I, Fagot-Campagna A, Fournier C, et al. Physical activity at home, at leisure, during transportation and at work in French adults with type 2 diabetes: the ENTRED physical activity study. Diabetes Metab 2015;41(1):37-44.
(9) Bleich SN, Wang YC. Consumption of sugar-sweetened beverages among adults with type 2 diabetes. Diabetes Care 2011;34(3):551-5.
(10) Tol A, Mohebbi B, Sadeghi R. Evaluation of dietary habits and related factors among type 2 diabetic patients: An innovative study in Iran. J Educ Health Promot 2014;3:4.
(11) Farooq MU, Mushtaq F, Naeem Z, Iqbal S, Naseem S, Ishtiaq O. Dietary habits and practices of type-2 diabetic patients in a tertiary care centre of Islamabad, Pakistan. J Pak Med Assoc 2018;68(5):825-30.
(12) Senadheera SP, Ekanayake S, Wanigatunge C. Dietary Habits of Type 2 Diabetes Patients: Variety and Frequency of Food Intake. J Nutr Metab 2016;2016:7987395.
(13) Instituto Nacional de Estadística e Informática. Censos Nacionales 2017: XII de Población, VII de Vivienda y III de Comunidades Indígenas. Lima, Peru: INEI; 2018 [updated 2018; cited 2020 Noviembre 20,]; Available from: http://censos2017.inei.gob.pe/redatam/.
(14) Bernabe-Ortiz A, Perel P, Miranda JJ, Smeeth L. Diagnostic accuracy of the Finnish Diabetes Risk Score (FINDRISC) for undiagnosed T2DM in Peruvian population. Prim Care Diabetes 2018;12(6):517-25.
(15) World Health Organization. Definition and diagnosis of diabetes mellitus and intermediate hyperglycemia. Geneva, Switzerland: WHO; 2006.
(16) Alvarado ME, Garmendia ML, Acuña G, Santis R, Arteaga O. [Assessment of the alcohol use disorders identification test (AUDIT) to detect problem drinkers]. Rev Med Chil 2009;137(11):1463-8.
(17) Daeppen JB, Yersin B, Landry U, Pécoud A, Decrey H. Reliability and validity of the Alcohol Use Disorders Identification Test (AUDIT) imbedded within a general health risk screening questionnaire: results of a survey in 332 primary care patients. Alcohol Clin Exp Res 2000;24(5):659-65.
(18) International Physical Activity Questionnaire Group. Guidelines for the data processing and analysis of the International Physical Activity Questionnaire. IPAQ; 2005 [updated 2005; cited 2020 November 20,]; Available from: https://sites.google.com/site/theipaq/scoring-protocol.
(19) Chobanian AV, Bakris GL, Black HR, Cushman WC, Green LA, Izzo JL, Jr., et al. The Seventh Report of the Joint National Committee on Prevention, Detection, Evaluation, and Treatment of High Blood Pressure: the JNC 7 report. Jama 2003;289(19):2560-72.
(20) World Health Organization. Noncommunicable Diseases and their Risk Factors: STEPwise Approach to Surveillance (STEPS). Geneva, Switzerland: WHO; 2016 [updated 2016; cited 2020 November 25]; Available from: https://www.who.int/ncds/surveillance/steps/en/.
(21) Coleman A, Steel S, Freeman P, de Greeff A, Shennan A. Validation of the Omron M7 (HEM-780-E) oscillometric blood pressure monitoring device according to the British Hypertension Society protocol. Blood Press Monit 2008;13(1):49-54.
(22) Barros AJ, Hirakata VN. Alternatives for logistic regression in cross-sectional studies: an empirical comparison of models that directly estimate the prevalence ratio. BMC Med Res Methodol 2003;3:21.
(23) Anari R, Amani R, Veissi M. Sugary beverages are associated with cardiovascular risk factors in diabetic patients. J Diabetes Metab Disord 2019;18(1):7-13.
(24) Murphy R, Thornley S, de Zoysa J, Stamp LK, Dalbeth N, Merriman TR. Sugar Sweetened Beverage Consumption among Adults with Gout or Type 2 Diabetes. PLoS One 2015;10(5):e0125543.
(25) Xu F, Park S, Siegel KR. Factors Associated With Frequency of Sugar-Sweetened Beverage Consumption Among US Adults With Diabetes or Prediabetes. Am J Health Promot 2018;32(7):1489-97.
(26) Mphwanthe G, Weatherspoon D, Li W, Weatherspoon L. Dietary Association with Glycemic Status Among Adults Clinically Diagnosed with Type 2 Diabetes in Malawi. J Community Health Nurs 2020;37(4):233-43.
(27) World Health Organization. Promoting fruit and vegetable consumption around the world. Geneva, Switzerland: WHO; 2003.
(28) Díaz-Garcés FA, Vargas-Matos I, Bernabé-Ortiz A, Diez-Canseco F, Trujillo AJ, Miranda JJ. Factors associated with consumption of fruits and vegetables among Community Kitchens customers in Lima, Peru. Prev Med Rep 2016;4:469-73.
(29) Thewjitcharoen Y, Chotwanvirat P, Jantawan A, Siwasaranond N, Saetung S, Nimitphong H, et al. Evaluation of Dietary Intakes and Nutritional Knowledge in Thai Patients with Type 2 Diabetes mellitus. J Diabetes Res 2018;2018:9152910.
(30) Hackett RA, Moore C, Steptoe A, Lassale C. Health behaviour changes after type 2 diabetes diagnosis: Findings from the English Longitudinal Study of Ageing. Sci Rep 2018;8(1):16938.
(31) Olofsson C, Discacciati A, Åkesson A, Orsini N, Brismar K, Wolk A. Changes in fruit, vegetable and juice consumption after the diagnosis of type 2 diabetes: a prospective study in men. Br J Nutr 2017;117(5):712-9.
(32) Singh GM, Micha R, Khatibzadeh S, Lim S, Ezzati M, Mozaffarian D. Estimated Global, Regional, and National Disease Burdens Related to Sugar-Sweetened Beverage Consumption in 2010. Circulation 2015;132(8):639-66.
(33) Organización Mundial de la Salud. Nota informativa sobre la ingesta de azúcares recomendada en la directriz de la OMS para adultos y niños. Ginebra, Suiza: OMS; 2015.
(34) Ministerio de Salud - Dirección de Prevención de Enfermedades no Transmisibles y Oncológicas. Guía de práctica clínica para el diagnóstico, tratamiento y control de la diabetes mellitus tipo 2 en el primer nivel de atención. Lima, Peru: MINSA; 2016.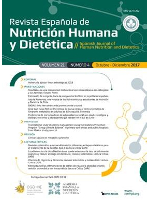 Descargas
Cómo citar
Martínez-Velarde, D., Málaga-Chávez, R., & Bernabe-Ortiz, A. (2021). Consumo de bebidas azucaradas, verduras y frutas en sujetos con alteración del metabolismo de la glucosa. Revista Española De Nutrición Humana Y Dietética, 25(3), 326–336. https://doi.org/10.14306/renhyd.25.3.1258
Sección
Artículos de investigación
Licencia
Derechos de autor 2021 Dalia Martínez-Velarde, Renzo Málaga-Chávez, Antonio Bernabe-Ortiz
Esta obra está bajo una licencia internacional Creative Commons Atribución-NoComercial-CompartirIgual 4.0.